Last week's challenge was doomed from the start. First blogger held the post hostage, and then inlinkz went MIA across all of blogdom. I offered up an extra day to complete the challenge and then came home Sunday night and sat down instinctively and closed it up like I always do...completely forgetting the extra 24 hours I'd promised. I did include all of the links in the comments, but as an apology for those that were working still on their challenge thinking they had another 1/2 a day, I will be offering up an extra prize this week....see details below. Also stay tuned in a few days for our latest DT call.
The song we are boppin' along to this week is 'It's My Life' by Bon Jovi. Our sponsor is the awesome
Crafty Ribbons
.
They are offering the winner their entire collection of 3mm satin ribbons...EVERY color they carry!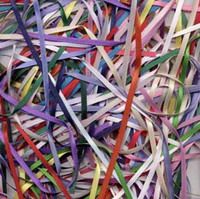 ----------------------------------------
This ain't a song for the brokenhearted
No silent prayer for the faith departed
And I ain't gonna be just a face in the crowd
You're gonna hear my voice when I shout it out loud
It's my life, it's now or never
I ain't gonna live forever
I just wanna live while I'm alive
It's my life
My heart is like an open highway
Like Frankie said, "I did it my way"
I just wanna live while I'm alive
Cause it's my life
This is for the ones who stood their ground
For Tommy and Gina who never backed down
Tomorrow's getting harder, make no mistake
Luck ain't even lucky, gotta make your own breaks
You better stand tall when they're calling you out
Don't bed, don't break baby, don't back down
----------------------------------------
Before I move on to the DT work, I want to share the goodies up for grab from moi that I spoke about in paragraph numero uno! It's a back to school mini album kit (photo coming in a few hours). Everyone who enters this week's challenge will be entered into a random drawing for this prize. Regardless if you are chosen in the top 5 or not, your name will be entered into this draw as long as you link up a creation by the deadline.
DT inspiration for you to sink your eyes into:
You will have until NOON November 7th (CST) to enter your link into consideration. Please remember to link to your blog post and not the blog in it's entirety. If app goes missing feel free to leave your creation link in the comments. Also, make sure you are using this week's song as your inspiration. You don't need to use the lyrics as your title or journaling, but if you stretch the challenge a bit, make sure you leave a trail of breadcrumbs so we can follow you on your awesome path to creative genious. :) :)